OVERVIEW
An undescended testicle (cryptorchidism) refers to a testicle that has not descended into the scrotum.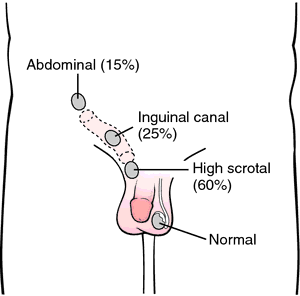 WHAT MAKES US SUSPECT IT?
Genital Exam:
Non palpable testicle/testicles 
CLINICAL WORKUP
Ultrasound (abdominal/genital) can help locate the undescended testicle.
TREATMENT
Surgical correction if testicle does not descend on its own after 1 year (to prevent sterility/malignancy). 
Page Updated: 12.01.2016