OVERVIEW
Tetralogy of Fallot is a congenital heart condition characterized by the following malformations.
Ventricular septal defect
Overriding aorta that overrides the ventricular septum
Right ventricular outflow and/or pulmonary valve obstruction 
Right ventricular hypertrophy.
These are depicted in the image below.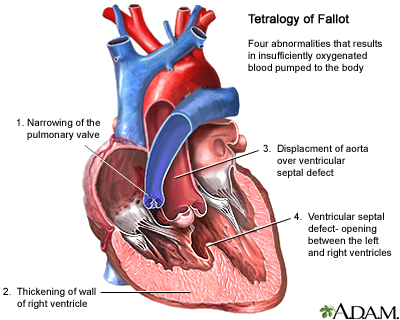 WHAT MAKES US SUSPECT IT?
Initial Presentation
CLINICAL WORKUP
ARCHIVE OF STANDARDIZED EXAM QUESTIONS 
This archive compiles standardized exam questions that relate to this topic.
Page Updated: 11.25.2016