OVERVIEW
Scarlet fever refers to a bacterial illness that develops in patients following a prior infection. It is characterized by a red rash that can be generalized.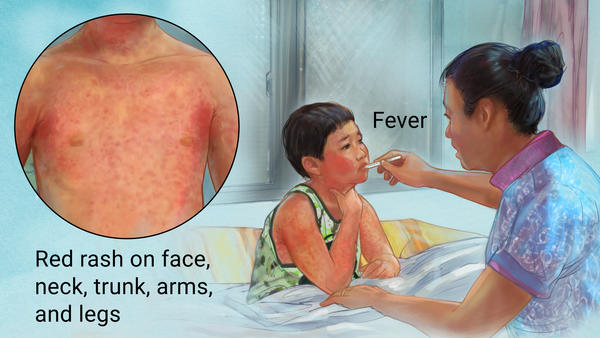 WHAT CAUSES IT?
Strains of Group A streptococcus that produce erythrogenic exotoxins. Scarlet fever can follow a streptococcal pharyngitis, wound infections, or streptococcal skin infections.
WHAT MAKES US SUSPECT IT?
Initial Presentation
Physical Exam:
HEENT Exam:
Pharynx is typical erythematous/swollen/covered with gray-white exudates.
Area of mouth is pale
Dermatological exam:
Rash is punctate/finely papular texture (sandpaper-like description).
Desquamation can occur later on.
CLINICAL WORKUP
HOW DO WE TREAT IT
Penicillin V is the preferred treatment method.
For those allergic to penicillin: erythromycin, clindamycin, and first generation cephalosporins.
ARCHIVE OF STANDARDIZED EXAM QUESTIONS
This archive compiles standardized exam questions that relate to this topic.
Page Updated: 11.21.2016