OVERVIEW
Varicocele refers to a vascular leison that is characterized by the dilation of gonadal veins the scrotum.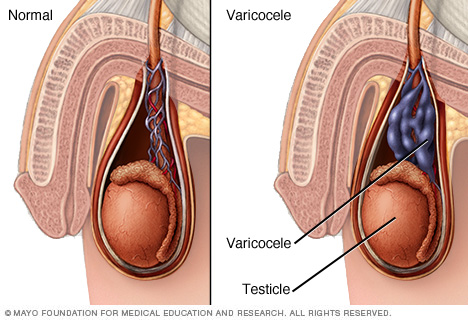 WHAT MAKES US SUSPECT IT?
Initial Presentation
Dragging sensation in testicles
Physical Exam:
"Bag of worms" feeling in scrotum (above testicle)
No transillumination
Increase in size drive Valsalva/standing
Decrease in size during laying down
CLINICAL WORKUP:IMAGING
Testicular ultrasound:
Retrograde venous flow
Tortuous anechoic tubules adjacent to the testis
Dilation fo pampiniform plexus veins
WHAT ELSE ARE WE WORRIED ABOUT?
Infertility: this condition can lead to infertility in males.
HOW DO WE TREAT IT?
Gonadal vein ligation: for boys an young men with testicular atrophy (who wish to father children int he future)
Scrotal support & NSAIDs: older men who do not desire additional children
ARCHIVE OF STANDARDIZED EXAM QUESTIONS 
This archive compiles standardized exam questions that relate to this topic.
Page Updated: 11.08.2016