OVERVIEW
Impetigo is a contagious infection of the superficial epidermis.
WHAT CAUSES IT?
Bacterial pathogens are the cause of this condition. Some common pathogens include Staphylococcus aureus and Streptococcus pyogenes. 
WHAT MAKES US SUSPECT IT?
Initial Presentation
Physical Exam:
Dermatological exam can reveal a painful (non-itchy) rash composed of pustules and "honey-colored" lesions.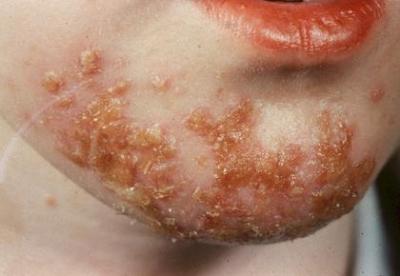 TREATMENT
Topical antibiotics (mupirocin) can be used to control the infection.
WHAT ELSE ARE WE WORRIED ABOUT?
Poststreptococcal glomerulonephritis: this condition can occur after a case of impetigo (that is caused by the Streptococcus bacteria).
ARCHIVE OF STANDARDIZED EXAM QUESTIONS 
This archive compiles standardized exam questions that relate to this topic.
Page Updated: 11.07.2016