OVERVIEW
Atelectasis is a condition in which there is collapse of the lung parenchyma WITH the qualifier that the visceral and parietal pleura remain attached. This is different from other types of lung collapse such as pneumothorax (where air enters between the parietal and visceral pleura, separating them).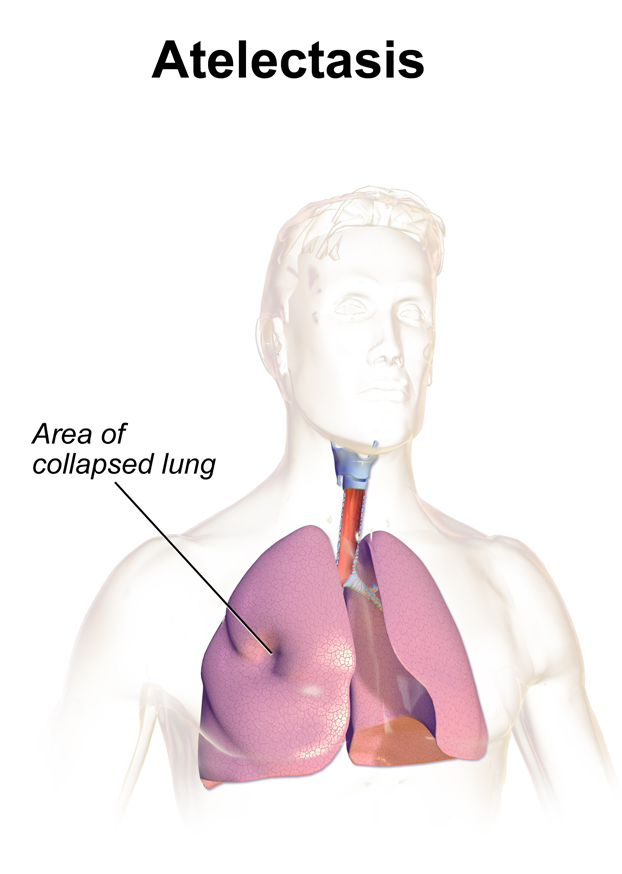 WHAT CAUSES IT?
There are multiple causes of atelectasis that fall into the following categories:
Obstructive: this type of collapse is caused by some process that obstructs airflow out of a region of the lung (mucus plug, tumor, etc).
Compressive: a mass effect near by (such a s pleural effusion or a pneumothorax) will compress the lung parenchyma and cause it to collapse.
Cicatrization: scarring in a nearby region will result in the collapse of a lung region.
WHAT MAKES US SUSPECT IT?
Initial Presentation
Slight fever
Shortness of breath
CLINICAL WORKUP
A chest X-ray can help visualize and diagnose atelectasis. Look here for a page dedicated to how atelectasis will appear radiologically.
ARCHIVE OF STANDARDIZED EXAM QUESTIONS 
This archive compiles standardized exam questions that relate to this topic.
Page Updated: 10.18.2016