OVERVIEW
Adenomyosis refers to the presence of ednoemtrial glands in the uterine muscle.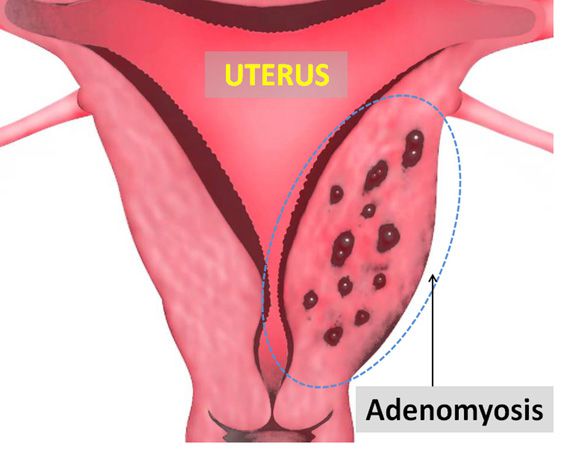 WHAT MAKES US SUSPECT IT?
Risk Factors
> age 40
Initial Presentation
Heavy menstrual bleeding
Dysmenorrhea
Chronic pelvic pain
History of Present Illness
Amount of menstrual bleeding: patients may soak through a pad/tampon less then every 2 horus.
Physical Exam
Abodminla exam can reveal a bulky, globuler, and often tender uterus.
CLINICAL WORKUP
Ultrasonography can reveal:
Asymmetric thickening of the myometrium (the posterior istypically thicker)
Myometrial cysts
Linear striations radiating from the endometrium
Loss of a clear endo-myometrial border
increased myometrial heterogeneity
MRI (especially the T2 series) can be used to show:
Histology: the most definitive means of diagnosing this condition is by analyzing tissue (histologically) obtained from a hysterectomy. The presence of endometrial cell types in the myometrium will serve to be diagnostic.
HOW DO WE TREAT IT?
Total hysterectomy is really the only means of definitive treatment. Because this condition is limited to the uterus, the ovaries can be spared during this procedure.
ARCHIVE OF STANDARDIZED EXAM QUESTIONS
This archive compiles standardized exam questions that relate to this topic.
Page Updated: 10.15.2016