WHAT IS IT?
Streptococcus agalactiae (commonly called group B Streptococcus/GBS) is a gram positive cocci bacteria that has the tendency to form chains.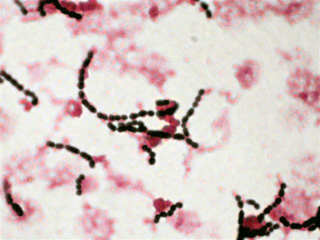 CULTURE CHARACTERISTICS
Beta hemolytic 
Catalase negative 
MOLECULAR CHARACTERISTICS
This bacteria is a facilitate anaerobe
TRANSMISSION
Pregnancy (delivery): If the mother is infected, this bacteria can colonize the neonate through the amniotic fluid after the rupture of membranes.
CONDITIONS CAUSED
Neonatal infection 
TREATMENT
Penicillin is the first line treatment for this microbe (and is also used as prophylaxis to prevent infection of a fetus/neonate).
OTHER HY FACTS
Page Updated: 10.08.2016