OVERVIEW
Otitis externa ("swimmers ear") refers to an infection of the outer ear.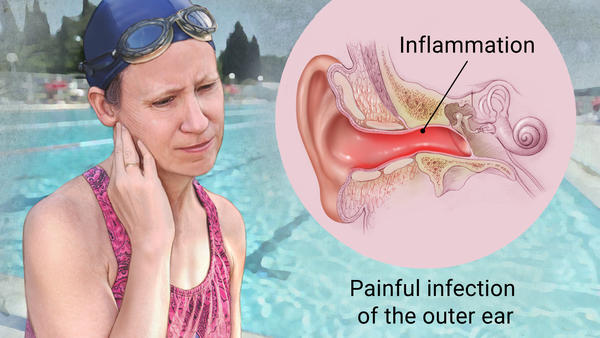 WHAT CAUSES IT?
Bacterial pathogens are often responsible for this infection, with Pseudomonas aeruginosa being one of the more common pathogenic bacteria to reside in the ear canal.
WHAT MAKES US SUSPECT IT?
Risk Factors:
Trauma to the ear, foreign material to the ear, exposure to outdoor water sources (i.e. swimming)
Initial Presentation:
Itchy ear: pruritus of the ear
Ear pain: otalgia
Ear discharge
Hearing loss
History Of Present Illness:
Recent outdoor swimming may have occurred before the patient presents with this complaint (beach, outdoor pool, etc)
Physical Exam:
HEENT Exam:
Ear pain with auricle manipulation
Erythematous ear canal
Visible discharge/purulent debris in ear canal
Unremarkable tympanic membrane (unless patient has an inner ear issue as well)
CLINICAL WORKUP
Culture of ear exudate can be done inc cases that are recurrent/refractory to therapy.
TREATMENT
Removal of debris can be done physically using wire loops.
Inflammation can be controlled using ototopical corticosteroids
Infection can be controlled using antibiotics
Empiric anti-pseudomonal options typically front line (such as oral fluoroquinolone drops) given how common infection with Pseudomonas aeruginosa is in this condition.
ARCHIVE OF STANDARDIZED EXAM QUESTIONS 
This archive compiles standardized exam questions that relate to this topic.
Page Updated: 11.26.2016