WHAT IS IT? 
Myelofibrosis is destruction of the bone marrow due to increased fibroblast activity. This is in response to proliferation of monoclonal cell lines (mature myeloid cells, usually megakaryocytes) within the marrow space . Often times this can be caused by JAK2 mutations (although other mutations may also cause this condition, many which involve the JAK-STAT pathway). Initially the bone marrow is hypercellular (proliferative stage) but later becomes hypocellular as it turns fibrotic.
WHY IS IT A PROBLEM?
The megakaryocytes that over-proliferate in turn produce excess platelet-derived growth factor (PDGF)/TGF-β that ultimately causes bone marrow fibrosis (promote growth of non-neooplastic fibroblasts => increased collagen production). Given the important function of the bone marrow in producing blood cells, its replacement with fibrotic tissue can result in the reduced production of red blood cells (RBCs), white blood cells (WBCs), and platelets. This can increase the risk of infection and bleeding.
WHAT MAKES US SUSPECT IT?
Risk factors: old age
Chief complaints: these constitutional symptoms are common
fever
night sweats
weight loss
fatigue (can be due to anemia)
Massive splenomegaly: that is caused by extramedullary hematopoiesis. Patients can complain of left upper quadrant pain.
Hepatomegaly is possible. Increased portal blood flow caused by splenic/hepatic hematopoiesis leads to portal hypertension (and hepatomegaly).
HOW DO WE CONFIRM A DIAGNOSIS?
Complete blood count (CBC): here are findings one would expect from this test (that can be consistent with findings of bone marrow failure/pancytopenia)
Decreased RBCs (normocytic anemia)
WBC counts variable (can be low)
Platelet counts variable (can be low) *platelets are abnormally large
Blood smear: literal teardrop shaped RBCs (dacrocyte) can be seen, as well as immature forms of the myeloid line. The shape of these red blood cells is caused by them being squeezed out of the fibrotic bone marrow.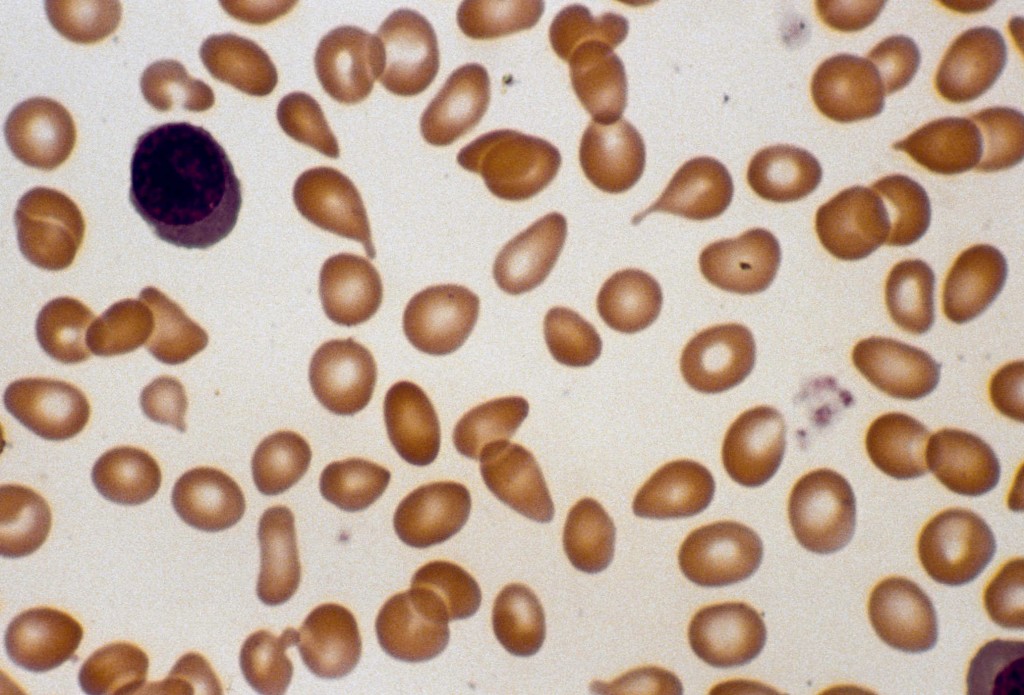 Leukoerythroblastosis/myelophthisis can also be seen on peripheral blood smear. This is defined as the presence of immature granulocytic precursors and nucleated RBCs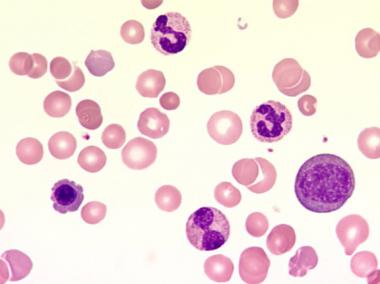 Bone marrow biopsy: can show multiple things, but quite notably both the increased presence of megakaryocytes and fibrosis can aid in the diagnosis.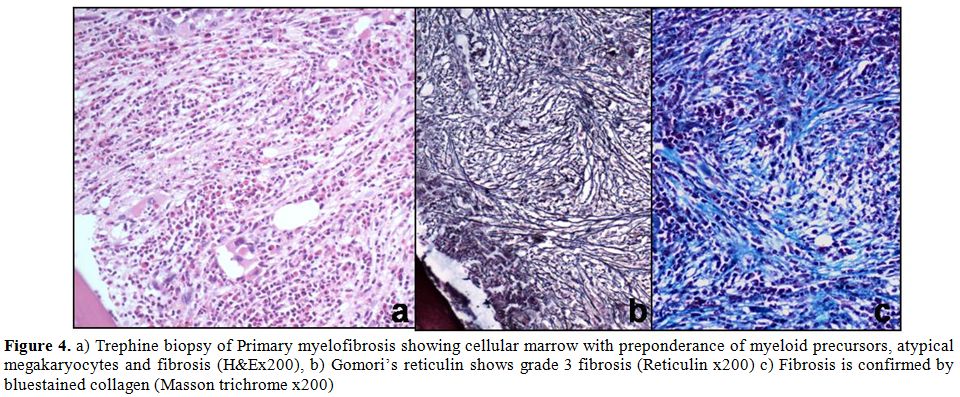 Genetic testing: ultimately needed to assess for a causal genetic mutation.
HOW DO WE TREAT IT? 
Ruxolitinib (Jakavi): this is the first line treatment for this condition. It is a JAK1/2 inhibitor.
Hydroxyurea: this is a myelosuppressive agent that appears to interfere with the synthesis of DNA. Other myelosupressive agents such as interferon-α (IFN-α) can also be used.
Splenectomy for patients who have complications associated with an abnormally large spleen
HOW WELL DO THE PATIENTS DO?
Survival estimates from Surveillance, Epidemiology, and End Results (SEER) program (source):
3-7 years for patients diagnosed in fibrotic stage
10-15 years for patients diagnosed in early prefibrotic phase
WAS THERE A WAY TO PREVENT IT? 
No clear method of prevention
WHAT ELSE ARE WE WORRIED ABOUT? 
Pleural effusion: extramedullary hematopoiesis can occur most anywhere (including outside of the liver/spleen) and in some cases can cause pleural effusion in these patients.
OTHER HY FACTS?
JAK2 is on chromosome 9
Page Updated:01.12.2016