OVERVIEW
Lichen sclerosus is a dermatological condition characterized by chronic inflammatory of the anogenital region (although extra-genital skin can also someitmes be involved).
WHATT CAUSES IT?
While the exact etiology is unknown, it is beleived that autoimmunity is invovled in the pathogeneiss of this condition.
WHY IS IT A PROBLEM?
This condition can be very uncomfortable for patinets.
WHAT MAKES US SUSPECT IT?
Risk Factors
Female sex, localized scarring/trauma to the genital region, autoimmune disorders (such as diabetes, scleroderma, Hashimoto thyroiditis), uncircumsized men (most men with this condition are not circumsized)
Initial Presentation For Women:
Intense pruritus of the affected region (ususally the vulva)
Genital pain
Bleeding
Dysuria or pain on defecation
Initial Presentation For Men:
Difficulty retracting foreskin
History Of Present Illness:
Pruritus is more often worse at night
Physical Exam
Gynecological exam (women):
Porceline white polygonal patches with atrophy ("cigarette paper skin") may be observed on vulvar stuctures.
Perianal region may be invovled as well giving a "figure 8" appearance of involvement
Sclerosis/scarring can lead to the loss of strcutures such as the labia majora, the clitorius, and the diameter of the introitus may also be decreased.
The vaginal canal is sparred from the presence of these white atrophic patches.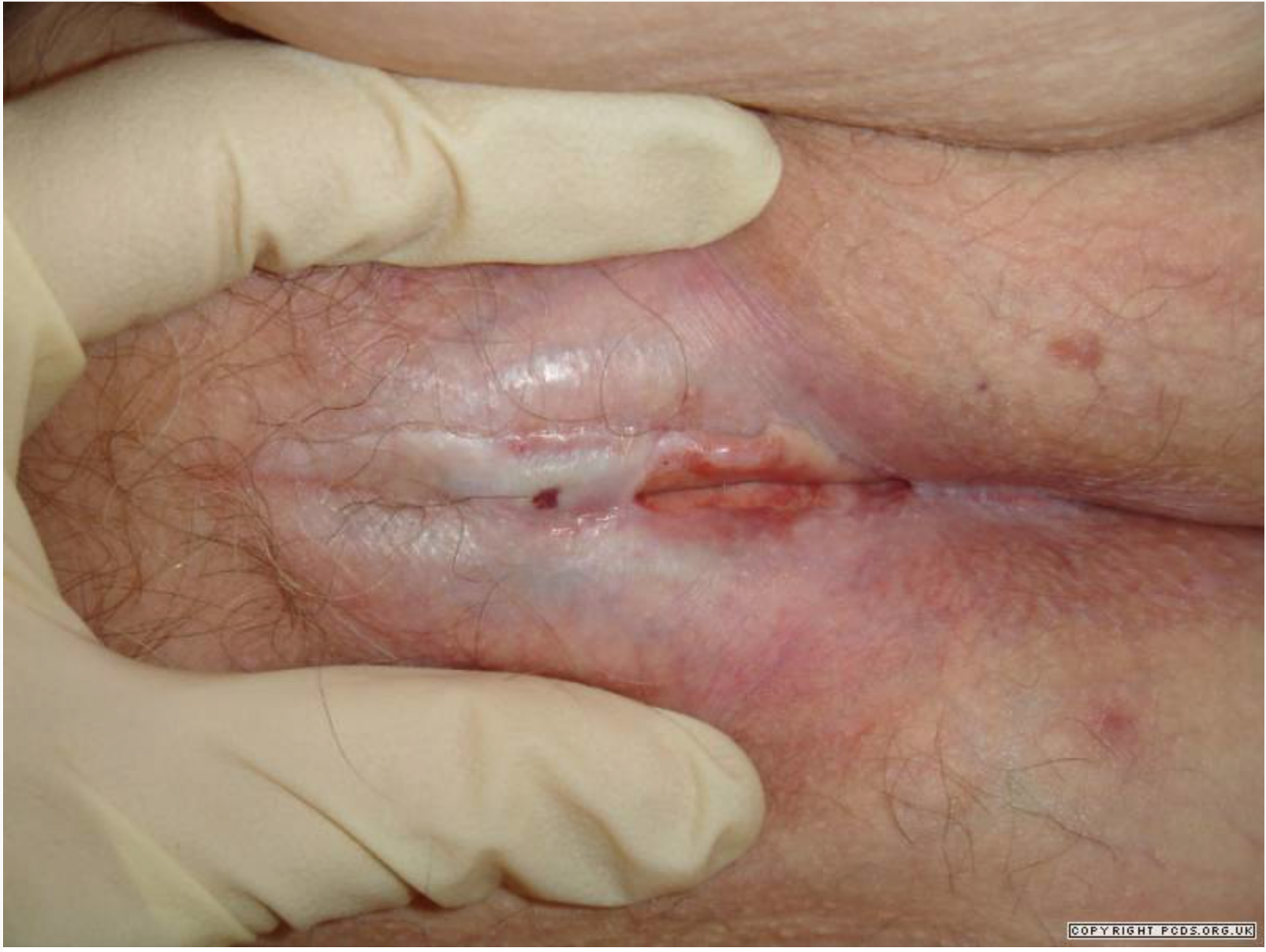 Genitourinary exam (men):
CLINICAL WORKUP
Punch biopsy of the affected regions (such as the vulva) can be used for definitive diagnosis.
WHAT ELSE ARE WE WORRIED ABOUT?
Vulvar squamous cell carcinoma: LS is a vulvar premalignant lesion , and vulvar squamous cell carcinoma occurs a ta higher frequency in patinets with LS. A vulvar punch biopsy can help assess for maliganncy in the affected regions.
Page Updated: 10.04.2016