WHAT IS IT?
Von Willebrand Disease is an intrinsic pathway coagulation defect, that is characterized by a deficiency in the von Willebrand factor (vWF). It is an autosomal dominant inherited bleeding disorder (but sometimes can also be acquired). There are multiple types of the disease that are further characterized by their specific pathologies (although all share the common element of vWF deficiency/dysfunction).
WHY IS IT A PROBLEM?
The vWF is responsible for binding to and increasing the half life of factor VIII, so its loss/deficiency will also result in a subsequent deficiency of factor VIII. This factor is the one important for the intrinsic arm of the clotting cascade, and will compromise the patients ability to stop bleeding.
Furthermore, vWF itself is important for platelet aggregation, and its deficiency will compromise proper platelet plug formation (vWF will not bind to platelets or collagen properly).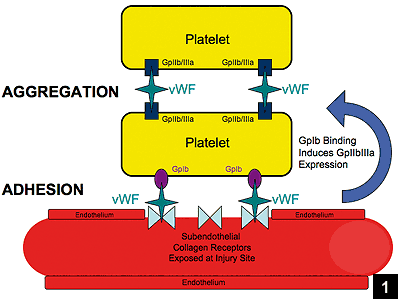 WHAT MAKES US SUSPECT IT?
Risk factors: family history, female, caucasian
Symptoms: typical of bleeding disorders
Bloody nose
Gum bleeding
Easy bruising
Heavy period (menorrhagia, most common bleeding disorder in women with this finding)
HOW DO WE CONFIRM A DIAGNOSIS?
Coagulation studies: the following results would be expected.
Increased bleeding time (platelet counts will be ok)
Increased PTT (decreased factor VIII by indirect means)
Normal PT (extrinsic pathway is OK)
Ristocetin cofactor assay: Ristocetin is an antibiotic that activates vWF and will cause platelet clumping (it requires vWF for this to occur). In this test ristocetin is added to the blood of a patient, and should the patient have von Willebrand disease, they will have absent/decreased platelet aggregation. The units reported are with respect to vWF activity.
vWF antigen testing: the amount of vWF in the serum can be tested (and will be lower in patients with this condition).
Factor VIII activity: the activity of Factor VIII can be tested, and will be decreased in this disease.
HOW DO WE TREAT IT?
Desmopressin: this synthetic analog of the anti diuretic hormone ADH/vasopressin, works to help by releasing both factor VIII and vWF from endothelial cells.
vWF concentrates can also be given to patients who are experienceing a bleeding episode
HOW WELL DO THE PATIENTS DO?
Most cases are mild-moderate in severity and can be managed without any issue.
WAS THERE A WAY TO PREVENT IT?
This genetic condition can not be prevented. Screening first degree relatives with the diagnosis of vWF can be informative.
WHAT ELSE ARE WE WORRIED ABOUT?
Excessive bleeding during pregnancy.
Aspirin and ibuprofen use can further compound complications (these COX inhibitors can further antagonize proper platelet function)
OTHER HY FACTS?
Platelets bind vWF using GPIb receptors.
Most common inherited coagulation disorder
ARCHIVE OF STANDARDIZED EXAM QUESTIONS
This archive compiles standardized exam questions that relate to this topic.
Page Updated: 01.12.2016