OVERVIEW
Endometriosis refers to ectopic endometrial tissue in the ovaries (that occurs with cyst formation).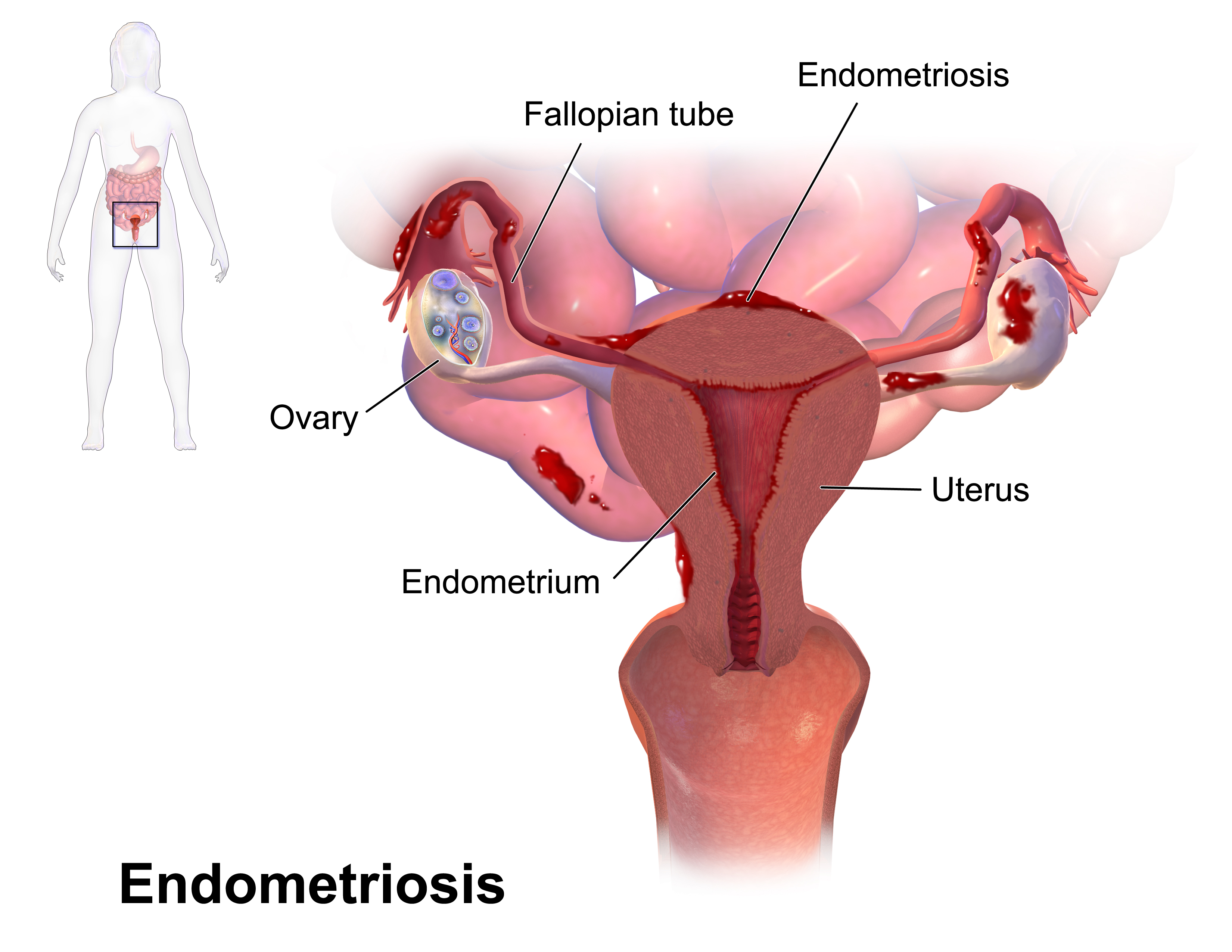 WHY IS IT A PROBLEM?
This condition can be very painful for patients.
WHAT MAKES US SUSPECT IT?
Initial Presentation:
Dysmenorrhea
Dyspareunia (especially with deep penetration)
Dyschezia
Infertility
Physical Exam:
Gynecological exam can reveal the following findings:
Immobile uterus
Cervical motion tenderness (pain when the uterus is mobilized)
Adnexal masses/enlargement of adnexa
CLINICAL WORKUP
Ultrasound: homogenous cystic ovarian masses are highly suggestive of ovarian endometrioma.
Laparoscopy and biopsy: in certain patients it may be decided that the offending tissue will need to be directly visualized and biopsied (to confirm the diagnosis).
Endometrial tissue

(simple columnar) can be appreciated in the biopsy

Hemosiderin pigment

can also be present in the biopsy
HOW DO WE TREAT IT?
Empiric treatment options: 
NSAIDs: ibuprofen/naproxen are commonly used.
Combined oral contraceptives: these medications include both estrogen and progestin
Patients who fail above treatment: These patients who can not be managed conservatively may need to laparoscopic evaluation.
Definitive treatment (often reserved for patients who are past child bearing age) involves hysterectomy and oophorectomy.
WHAT ELSE ARE WE WORRIED ABOUT?
Infertility: this is commonly one of the sole presenting symptoms of endometriosis. Patients with this condition are at a higher risk of having infertility.
ARCHIVE OF STANDARDIZED EXAM QUESTIONS 
This archive compiles standardized exam questions that relate to this topic.
Page Updated: 10.01.2016