WHAT IS IT? 
Acute myelogenous leukemia (AML) is a neoplasm of the myeloid lineage of blood cells that leads. Many cells belong to this lineage, so AML is a heterogenous disease with many subtypes. Regardless, most subtypes are associated with some genetic alteration that inhibits terminal myeloid differentiation.
Progression of AML is very rapid (as the name suggests) and can be fatal (in a timeframe of weeks to months) if left untreated.
Acute promyelocytic leukemia (APL) is a subtype of AML that is important for the Step exam. Also called subtype M3.
WHY IS IT A PROBLEM?
If myeloid differentiation is inhibited (as is the case with most AML diseases) normal bone marrow is replaced by immature malignant precursor blast cells. The accumulation of these cells suppresses normal hematopoetic progenitor cells by literal physical displacement. This results in anemia, neutropenia, and thrombocytopenia, which are responsible for the clinical presentation of AML.
WHAT MAKES US SUSPECT IT?
Risk factors: older age (median onset ~65), prior exposure to alkylating chemotherapy, radiation, myeloproliferative disorders
Chief complaints: usually a very acute onset that might include:
fatigue (due to anemia)
fever (due to neutropenia)
Spontaneous bleeding (thrombocytopenia)
Swelling of gums: usually seen in acute monocytic leukemia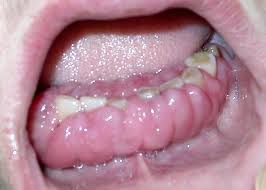 Presentation of DIC: Leukemia cells often release pro-coagulation factors (and sometimes even fibrinolytic factors)
*Lymphadenopathy is rare in AML (as opposed to ALL)
HOW DO WE CONFIRM A DIAGNOSIS?
Peripheral blood smear will show increased myeloblast cells. These cells have delicate nuclear chromatin, 2-4 nucleoli, large cytoplasms (compared to lymphoblasts), and peroxidase containing granules.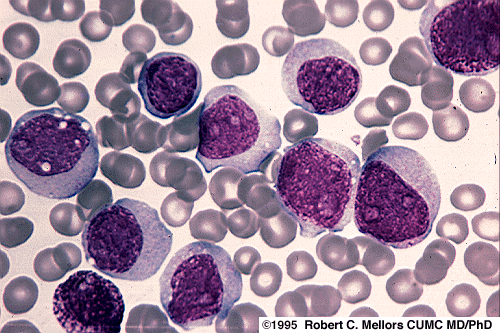 Auer rods: these are splinter shaped structures that represent myeloperoxidase (MPO) positive granules (that stain burgundy-gold with a Romanowsky stain). Often seen in AML, especially in the APL subtype. These are not present in ALL or CML and can help distinguish these two from AML!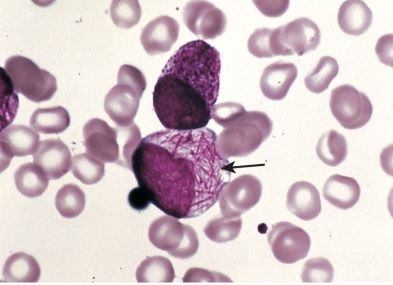 Bone marrow biopsy: will show greater than 20% myeloid blast cells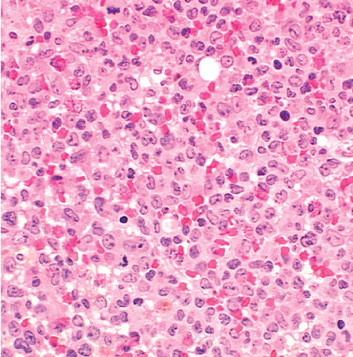 Immunohistochemical testing: myeloid specific markers can always be used to confirm the presence of myeloid blast cells.
Cytogenetics: some forms of AML have translocations such as the 15:17 translation seen in APL. This is a translocation of the retinoic acid receptor alpha (RARA) that leads to promyelocytic leukemia protein (PML) production. This in turn leads to abnormal/decreased retnoic acid signaling (more on this in the treatment section).
HOW DO WE TREAT IT? 
Aim of treatment is to clear the bone marrow of the neoplastic myeloblasts so normal hematopoiesis can occur (hopefully restoring cell counts)
Chemotherapy (first line): there are 2 stages of this therapy.
Induction

: aimed towards reducing the number of leukemia cells down to levels that can't be detected. Possible drugs used: cytarabine (pyrimidine analog that inhibits DNA polymerase) and daunorubicin

Consolidation

: eradicating residual disease (ultimately resulting in a cure). This is aggressive chemotherapy +/- radiation.
All-trans retnoic acid (Tretinoin): In APL there is a translocation event that disrupts the retnoic acid receptor (RAR). This leads to a lack of retnoic acid signaling, which is the reason why myeloid cells are not able to properly differentiate. As a result, giving these patients retnoic acid restores this signaling, and promotes the differentiation of these myeloid cells.
HOW WELL DO THE PATIENTS DO?
Prognosis depends on the subtype as well as many other factors. One must take the whole clinical picture into account to get a  good understanding of how a patient with a specific type of AML will do.
WAS THERE A WAY TO PREVENT IT? 
No clear prevention of AML, however  alkylating chemotherapy and radiation are associated with increased risk of this disease.
WHAT ELSE ARE WE WORRIED ABOUT? 
Bleeding and infection: many patients die from both uncontrolled bleeds, as well as infections.
Down syndrome: associated with Acute megakaryoblastic leukemia (a type of AML)
OTHER HY FACTS?
Myeloproliferative disorders can transform into AML. These are stem cell disorders that involve ineffective hematopoiesis.
Fanconi anemia (genetic loss of DNA crosslink repair) can lead to AML
Page Updated: 01.11.2016